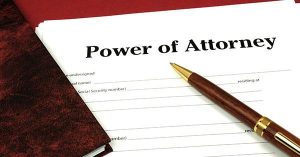 Let's say that your mother was diagnosed with dementia, or your father has recently become a widower. You notice their house has started to fall beyond repair, or that driving is becoming difficult.,. And then it hits you. You realize that your parent's ability to care for themselves is changing as they age.
At this stage in life, any change in health can be a real disruption to a senior's lifestyle. Life is unpredictable, so planning ahead is important. When you plan ahead for events, you have time to sort through proper legal and financial planning to ensure that senior's wishes are met when they cannot make those decisions for themselves. The first step is designating a power of attorney (POA) that will confidently and wholeheartedly make decisions on the senior's behalf.
What is a Power of Attorney?
A power of attorney is a spouse, family member, trusted friend or caregiver that will make legal decisions for someone who is unable to make them on their own. A POA document allows health, legal, financial or real estate matters to be handled by that person that your senior designates as their POA.
POA's can be selected to make decisions on separate issues based on your senior's wishes. Your mom might want you to be her healthcare power of attorney, where you would be responsible for decisions regarding medical care. However, she also might want your brother to be her financial power of attorney, which leaves him with the responsibility of their healthcare, finances and property needs.
When is it time to set up a POA?
"You should start legal planning immediately if your parent is diagnosed with dementia, and a power of attorney has not been decided. The Alzheimer's Association recommends meeting with a lawyer as soon as they are diagnosed so they can participate in planning before their decline. Hire an elder law attorney who will ensure your parent's health, property, and legal matters are correctly handled."
"Setting up a power of attorney can bring you and your parent valuable peace of mind, so don't delay. If they want their financial and medical decisions to be fulfilled, then setting up a power of attorney who understands their wishes is essential. Their future should not be something that is left to chance, but a decision made while they are able to participate in the process."
What does Activated POA mean?
"Power of attorney documents have language included in them that indicate when the power of attorney takes effect. Most require the signature of two physicians to certify that the person is unable to participate in medical decisions, although some only require one.
Some documents allow for one physician and one psychologist to sign that determination, and others allow a physician and a clinical social worker to sign the statement. You may be able to choose the specific wording to indicate when someone else will have the right to make decisions for you; some people even specify a certain physician by name as the individual to make the decision.
After the practitioners sign to indicate that the person is not able to make medical decisions, the power of attorney is in effect and the individual who was designated now will make the medical decisions for that person."
If I sign my POA, can I still make my own decisions?
"Yes. Nothing happens with your power of attorney until you are determined to be unable to participate in medical decisions. Until that time, you retain all rights to make decisions for yourself. If family members disagree with you, your choices trump their thoughts until, and unless, the power of attorney for health care has been put into effect."
When you start planning for the future, our biggest suggestion is to find a lawyer that you trust to help guide you through, who understands the limitations and restrictions in your state. A competent lawyer in this area of expertise will be beneficial to your family, especially for a loved one newly diagnosed with Alzheimer's or another form of dementia. In addition to setting up a power of attorney, an elder law attorney can assist with issues like how to pay for long-term care, preparing will or trusts, estate planning, and assistance with Medicare, Medicaid, and social security.
Thank you to Aegis Senior Living for the information in this article, and https://www.verywellhealth.com/activating-a-durable-power-of-attorney-for-healthcare-98226 for their information.