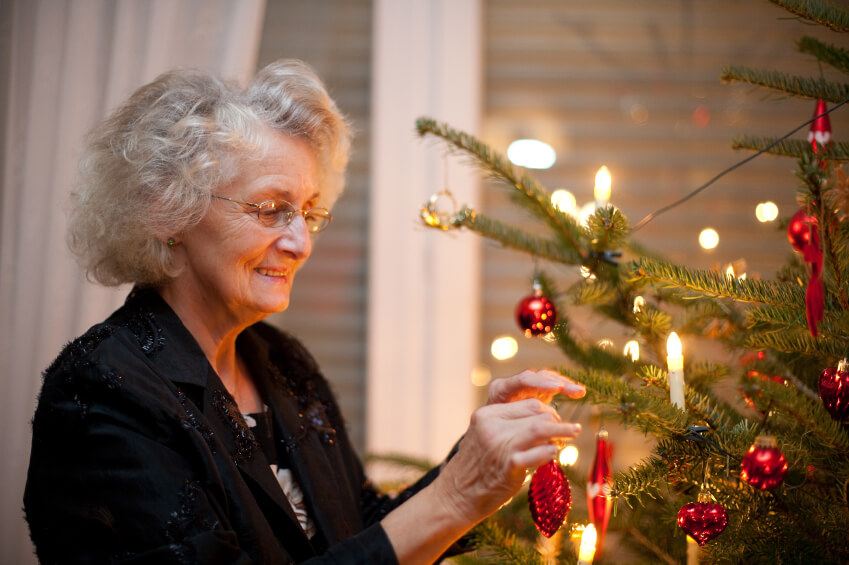 While you are preparing for the holidays – wrapping the presents, grocery shopping and cleaning the house – often, our elderly loved ones are having a difficult time. As seniors become older, their circles become smaller due to death, illness or moves and can really impact their feelings around the holiday season.
Whether independently living or in an assisted living home, feelings of isolation may be a reason your loved one is feeling blue. However, there are so many opportunities for families to celebrate with their loved one and help them feel connected during the holiday season!
Join in on the fun
If your loved one is living in a memory care of assisted living facility, most offer events around the holidays for residents to participate in that families are welcome to join in on, too! Adding these events to your family's holiday festivities are a great way for your elderly loved one to be included!
Too many cooks in the kitchen is a GOOD thing
Many often look forward to the big, delicious meal that comes along with holiday gatherings. If your elderly loved one enjoys cooking, let them help you make something. Giving them purpose makes them feel that they are needed and valued!
A simple drive
If your loved one is no longer able to drive, offer to take them to the store to pick out gifts! This can bring a huge boost of confidence and independence back into your senior!
Worship
Invite your loved one to a religious service and go together as a family. This could bring a lot of comfort to them during the holiday season.
Holiday cards
Sending a holiday card can help your elderly loved one feel more connected to friends and family during the holidays! Turn on some music, grab a coffee and write cards together.
Decorate, decorate, decorate!
No matter where they live (at home or in an assisted living), try to make their living space feel festive! Decorate together if you are able, and pull out older decorations and reminisce while you do it! It will be sure to bring back wonderful holiday memories!
From our Azura family to yours, we wish you a wonderful holiday season!