You're probably reading the title of this blog and thinking, "Moving my arms and legs could prevent me from getting dementia? You're insane." Well, that's exactly what I'm telling you. Enhanced dementia and Alzheimer's research reveals that learning new dance moves and choreography could prevent or elongate dementia. Here's why:
According to the World Health Organization, "The number of people who will be affected by neurological disorders is expected to increase in the upcoming decades. There are issues with current surgical and pharmacological treatments, as well as conventional rehabilitative therapies, so new therapies are needed. Dance is seen as viable therapy because it simultaneously combines physical and cognitive stimulation, which could maximize its impact on neuroplasticity and cognition. So far, studies have examined the effects of dance in elderly individuals with dementia, including subjects with Alzheimer's disease and those with confusion, disorientation, and memory loss." (Orpen, 2016)
In 2003, the New England Journal of medicine did multiple studies and found that dancing CAN reduce the onset of dementia. This study went on for 21 years, evaluating hundreds of older adults, aged 75 and up. The researchers studied each individual for an extended period of time – taking note to their physical and cognitive brain stimulation while completing the following activities: reading, writing, crossword puzzles, playing cards, playing musical instruments, dancing, walking, tennis, swimming and golf.
"Surprisingly, dance was the one activity that was good for the mind, significantly reducing dementia risk. Regular dancing reduced the risk of dementia by 76%, twice as much as reading. Doing crossword puzzles at least four days a week reduced the risk by 47%, while cycling and swimming offered no benefit at all." (Orpen, 2016)
Here at Azura, our Quality of Life coordinators/directors do "Move and Groove" with our residents daily as their morning exercise. We learn new choreography, and have options for those in a wheelchair or those who are ambulatory! In fact, we took special notice to one of our residents at Azura of Fox Point, Judy Brannon, whos highlight of her day was getting to dance in the morning with her neighbors. She picked up on choreography quickly, and even helped other residents learn the dance!
As a part of our MOSAIC dreams program, we started working on fulfilling Judy's dream, which was to dance for the Milwaukee Bucks, her favorite sports team.
On Tuesday, March 29th, the Bucks Grand Dancers came to our home to not only put on a show for Judy, but also let her dance with them in a few of their routines! They actually were so impressed by Judy's moves when we were organizing this, that they offered her to join them at Fiserv Forum for a REAL show!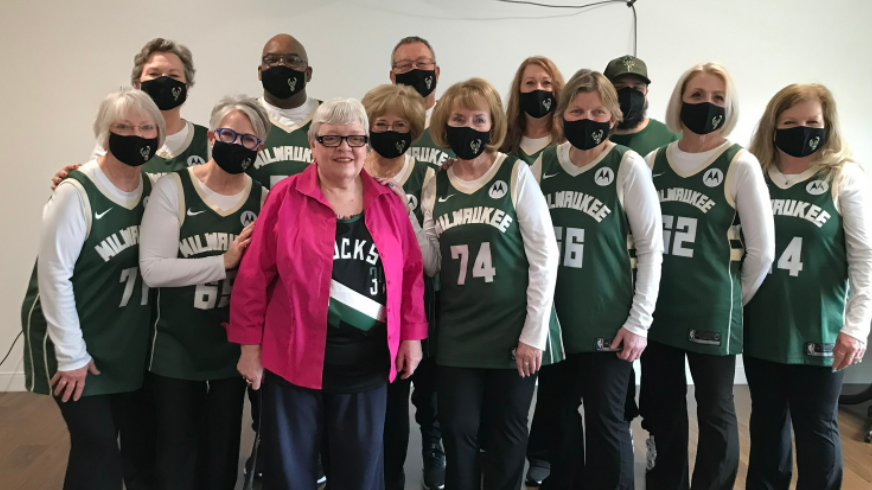 Judy's family quoted, "I did notice the beautiful change in Judy from this experience, she was back to her happy and relaxed self. I also noticed her memory seemed improved."
To watch the news story covered by CBS10, click here!
"The field of dance research in the elderly is relatively young and continues to evolve. A study published in BMC Geriatrics, found that a dance video game, which combined physical and cognitive training, was more beneficial in improving walking accuracy and pace in older adults than muscle strengthening exercises alone." (Orpen, 2016).
If dancing can keep my body AND brain healthy, I guess I'll be seeing you at the dance studio.